DCCS has Experience in Fabricare Since 1983
DCCS has been the leader in innovative technology and software applications serving the dry cleaning industry since 1983. Founded by Herb Markman, a pioneer and innovator in computer systems for the fabricare industry - with over 30 years experience and a long list of patents and accomplishments - DCCS has grown and matured into the leading publisher of software for the dry cleaning marketplace. 
Why DCCS has survived in the Point-of-Sale market where many others have fallen away has been based upon the recognition and acceptance of responsibility to furnish more than just a computer product. Our commitment is that we believe that we do not want to change the way that you do Drycleaning, but with DCCS we can help you do it better. We believe through creating a partnership and relationship with our customers, we are able to achieve and deliver a total solution to help you combat tougher competition and shrinking profit margins.
Ready to Help with World-Wide Experience and Expertise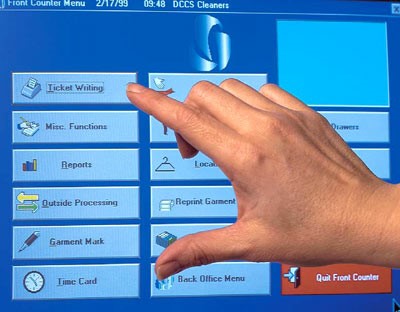 Here at MOMENTUM Point-of-Sale, we have been the New Zealand distributor of DCCS software since 1992. Throughout the world DCCS -USA supports and services thousands of customers worldwide with the largest staff in your industry. The majority of DCCS employees throughout the various DCCS branches around the world have been with the company for over ten years, giving us a stable and consistent human resource that has contributed to company growth and an unparalleled knowledge base. DCCS offers diverse expertise from staff professionals who have extensive backgrounds and experiences in the laundry, dry cleaning and computer industries as well as expertise in marketing, operations and work flow system.
We know that to stay on top of the industry as it evolves is only possible through continued innovation and development. So if you are using DCCS, then your voice is heard amongst the thousands of others in the industry, & your feedback is taken on board to develop the DCCS system even further. After all, it is those of you that use DCCS, that know what you need to develop it further.
At MOMENTUM PoS in New Zealand we work closely with DCCS Australia, & indeed many of the enhancements of the DCCS system come about directly due to our feedback.
Please be advised: That if you are a DCCS user, then you are entitled to support right across the global network;
If you are a Drycleaner in Australia, then please call:    (03) 530-221
If you are a Drycleaner in United States, then please call:    (610) 275-6090